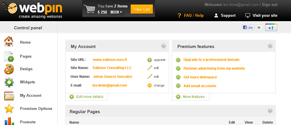 Easy Website Building System
Our system is very easy to use. Absolutely no technical experience is required. You can get your powerful professionally looking website online in minutes.
100s of Professional Styles
Choose from over 300 beautiful and professional templates, customize it for your site, and you are ready to go! Alternatively, you can design your own style!
Tons of Web Applications
Photo and video galleries, music player, guestbook, comments, site members, contact form, social apps, google analytics, and many other web applications. You can build a very powerful website by just enabling these applications on your website with one click.